En esta página voy a ir subiendo los materiales que he realizado para las clases de español y las cosas interesantes que he encontrado por internet, si quereis saber como he trabajado alguno de estos materiales en concreto dejadme un comentario.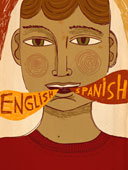 Here you have some spanish resources that I made for my spanish lessons as a Foreign Language Assistant in UK. Feel free to use them! Leave a comment if you found them useful or if you have any questions about them.
(Ahhh! Si algun enlace no va por favor avisadme 🙂 Please report any broken link )
~Actualizado el 30 de marzo~
Aquí teneis todos los powerpoints que he hecho para la assembly de cultura española. Las imágenes no son mias, les explico cada cosa y las comentamos entre todos.
Cultura española:
Elche (Sobre mi ciudad)
Carteles en castellano (La mayoría de las fotos de este powerpoint si son mias)
Gente famosa (Dejad que adivinen quién es cada personaje y a qué se dedica, es muy divertido xD)

Norte de España (Para enseñar que en España no sólo hace muucho calor y que tenemos diferentes paisajes)

Carnavales (También les enseñé fotos de un cole español en la fiesta de carnaval http://jaimebalmes.org/php/)
Fichas y otros materiales
Estos son materiales he encontrado en internet o que he ido haciendo para algunas de las lecciones, si quereis saber como estan hechos (muchos de ellos simplemente con el Paint) o como los he trabajado no dudeis en escribidme o dejad un comentario.

PPT Juego de la abeja (Isabel G.)
Mariposa (pintar por números)
Flash cards pequeñas (esl flashcards.com)
La familia Real española (Es un extra para trabajar vocabulario de la familia y a la vez algo de culturilla)
La familia Simpson (Isabel G.)
Tartas de cumpleaños con velas (Para practicar como se escribe Tengo x años)
Me llamo (y hablar sobre uno mismo):
Me llamo… (Ficha para los más pequeños, con pauta, para practicar Me llamo…)
Escribe sobre tí (Ficha para practicar como se escribe Me llamo, tengo x años, mi cumpleaños es…)
Nombres en español (lista de nombres de chicas y chicos)
Juego de mesa sobre el tiempo 1
Juego de mesa sobre el tiempo 2 (+ colores y números)
¿Qué tiempo hace? Ficha con vocabulario del tiempo y tabla de seguimiento del tiempo durante dos semanas, yo se lo he puesto como deberes para estas vacaciones de easter pero podeis editar el texto y que apunten el tiempo cualquier semana).
En mi estuche (PowerPoint con los objetos de clase, estuche, lapiz, boli, tijeras…)
3 en raya (diapositiva extra de la presentación anterior para jugar al 3 en raya si teneis pizarra interactiva)
PPT de la ropa (Isabel G.)
PPT de alimentos (Isabel G.)
Juego memory (pelmanism) de las partes del cuerpo 1
Juego memory (pelmanism) de las partes del cuerpo 2
PPT Partes del cuerpo ( Isabel G.)
Aliens de colores (para trabajar frases: tiene 4 brazos, 3 ojos, colores, etc.)
PPT Mascotas (Isabel G.)
PPT Mascotas (Es el de Isabel pero modificado para mi clase: Perro, gato, pez, hamster, pájaro, tortuga, conejo, incluye formación de oraciones completas y uso del plural gato-gatos, etc)
PPT Partes del colegio (la clase, la biblioteca, el patio, el gimnasio, el comedor, la sala de informática, los servicios. Mil imágenes para hacer diferentes juegos)
PPT Con el alfabeto español y algún jueguecillo
El juego de la Oca (En UK no existe..!!!)
Tablero 1 (Yo los he imprimido en A3 a color en el cole y salen muuuy bien)
PPT Juego de la Oca (Las casillas especiales e instrucciones)
Plano 1, plano2 , Algunos mapas para practicar ¿Dónde está la biblioteca? todo recto, a la izquierda, a la derecha…
Plantillas gratis para PowerPoints
TemplatesWise (Es una web con plantillas y fondos gratuitos -muy apañaos- para los ppt)
Generador de sopas de letras (Word search)
Hay muchos, por ejemplo este.